How To Prepare Egusi Soup
Hi foodie
Egusi soup
Ingridents
Blended Egusi
Cameron pepper
Opeyi
Crayfish
Stockfish
Bitterleaf
Onions
Palmoil
Saki
Pomo
Ogunfe
Maggi
Salt to taste.
Procedure
*Boil the all the meat and stockfish together,wash the Pomo and put aside.
*Put some amount of palmoil in the pot and place on the cooker or stove while the palmoil is getting hot,slice your onions and put aside.
*Put your Egusi in a bowl ,divide it into two parts,pour the stock water and sliced onions in the other one,stir it together.
*Break raw egg in the other one ,also stir it together by then the palmoil should be hot(not too hot) reduced the light.
*Start putting the Egusi with egg little by little like puff puff 😂 then the Egusi with onions until you finish it,fry for about 10min.it shouldn't get burnt.
*Put water, pepper, crayfish,Maggi,salt and opeyi to boil for some minutes then add your stock,pomo and meat.
*After some minutes add your bitterleaf or whatever leaf you desire,allow to steam small and your soup is ready.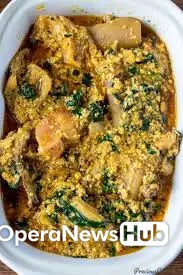 Related News
Men: See the 3 sperm killing foods you need to avoid, if you want to be potent
2020-06-05 15:49:28
Continue reading